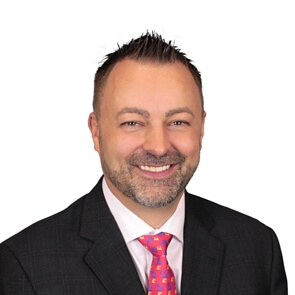 Jeff Skaare
First International Bank & Trust (FIBT) is proud to welcome Jeffrey L. Skaare as Mineral & Land Services (MLS) Business Development & Landman. Skaare is a North Dakota-licensed attorney who has dedicated his career to oil and gas development, bringing more than 15 years of industry experience to his role at FIBT.
Jeffrey is well-known and respected in the industry, having previously held numerous positions, including Land Manager, Director of Operations, and later Director of Business Development at an independent energy company. He also owned a complete mineral and gas land services company, managing over 50 landmen and support staff providing title, leasing, curative, due diligence, seismic permitting, mapping, surface use, and land records.
As a member and Certified Professional Landman (CPL) with the American Association of Professional Landmen (AAPL), Mr. Skaare has conducted multiple mineral appraisals in both producing and non-producing mineral interests in ND & MT and has acted as an expert witness in mineral valuation cases.
Mr. Skaare has served on the Board of Directors for the North Dakota Petroleum Council (NDPC), is on the Board of Directors and is past President of the Landman Association of North Dakota (LAND), and is a member of the Wyoming Association of Professional Landmen.