Banking Solutions for Business:
BASYS Credit Card Processing
Whether your business already accepts credit cards, or you're ready to enhance the payment methods available to your customers, we can help you with a solution that complements your business.
Our payment solutions are tailored to your individual business needs. Before we offer a solution, First International Bank & Trust, and our processing partner, BASYS, will perform an in-depth analysis of your business' processing needs.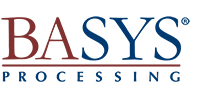 Getting Started
Find out how BASYS can work for you with an apples-to-apples savings analysis for your business. Contact your banker or use the link below to get started.
Along with offering the best rate possible, BASYS Processing understands the importance of PCI Compliance and has a full-time dedicated team ready and available to assist you with the requirements.

We have a full suite of options for retail merchants. Whether you have an existing terminal or are new to business, we have a solution to fit your needs.

We offer a complete suite of the latest processing equipment, including EMV-compliant and fully EMV-integrated terminals. Our program supports all major payment types including debit cards with quick and reliable funding.

We can help you safely implement a payment solution for your eCommerce business that best meets your needs, while helping your business reduce the risks and cost of fraud and chargebacks in the online world.

Whether it be processing via smartphone, on your tablet or via a dedicated wireless terminal, we have a full suite of products to fit your needs.

Our partner, BASYS, works with numerous petroleum processing systems with high-speed authorizations paired with innovative reporting to keep your service station going.

The online processing system, BASYS IQ, helps to ensure that every transaction automatically contains the correct data to qualify for the lowest rates available.

From fine dining to catering from delivery to phone orders, BASYS can accommodate your needs.

Gift & Loyalty Card Programs
Pin Debit Processing
Online Reporting
Check Processing