Live First Community Grant: WINNERS!
FIB&T recently completed its 2nd Annual Live First Community Grant campaign and we were thrilled to see all of the great initiatives going on in the communities in which we live and work. We announced our winners, paid them a visit and are excited to share a little more about their organizations.
---
Grand Prize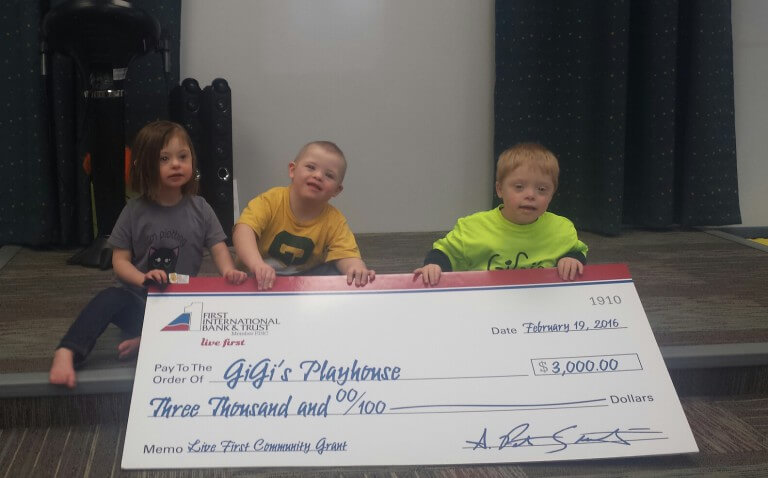 About GiGi's Playhouse:
GiGi's Playhouse is the first Down syndrome achievement center in North Dakota! They reach families not only in Fargo-Moorhead, but across the region. Serving children and adults of all ages with Down syndrome, GiGi's Playhouse offers educational, social and therapeutic programs at no cost to families. All programs aim to maximize self-confidence and empower individuals to achieve their greatest potential. Helping children and adults at GiGi's Playhouse extends beyond the Down syndrome diagnosis – their global message is acceptance. They believe in a kinder and more accepting world for everyone. GiGi's Playhouse continues to celebrate the many achievements of their participants, develop new programs to benefit participants, and work tirelessly to change society's outdated perceptions about the amazing potential of individuals with Down Syndrome.
---
Runner-Ups
About Special Olympics:
Special Olympics North Dakota (SOND) provides sport and physical fitness training and athletic competitions to more than 1,500 athletes throughout North Dakota in 15 Olympics-type sports. The mission of Special Olympics is to provide year-round sports training and athletic competition in a variety of Olympic-type sports for children and adults with intellectual disabilities, giving them continuing opportunities to develop physical fitness, demonstrate courage, experience joy, and participate in a sharing of gifts, skills and friendship with their families, other Special Olympics athletes and the community. Special Olympics plans to use the $500 from the Live First Community Grant towards their upcoming event in Minot, the State Basketball Tournament. Special Olympics North Dakota does not charge its participant or their family members a fee to participate in its programming or events, including the State Basketball Tournament.
About Youthworks:
Youthworks is a 501(c)(3) non-profit providing youth and family services throughout North Dakota since 1986. At Youthworks, they provide support services to youth and their families to meet goals for strong, healthy relationships. Their offices are located in Bismarck and Fargo and they serve the surrounding counties. Youthworks focus and expertise is working with at-risk and homeless youth as well as parents and young adults under 22 years old. The "We've Got You Covered" campaign is a community initiative that encourages collaboration among agencies, organizations and companies. It is a way for the community to actively take part in a campaign to improve the lives of area young people.
---
Fan Favorites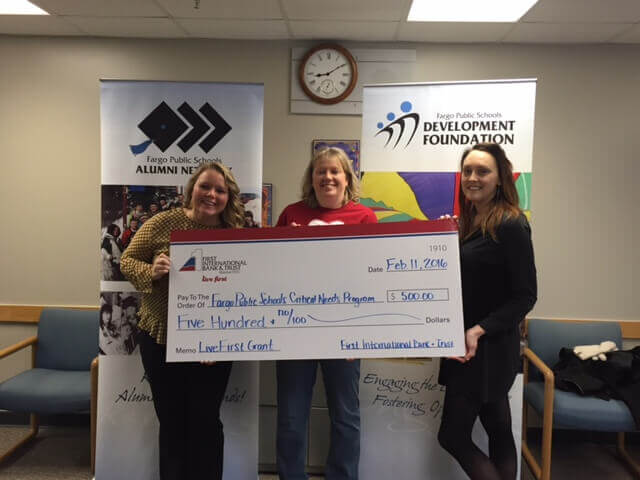 About Fargo Public Schools Foundation:
The Critical Needs Program is organized by the Fargo Public Schools Foundation to ensure that each and every student who needs help with basic needs receives support. Contributions to the Critical Needs Program helps individual schools who serve low-income families identify students most in need. All 23 schools in the Fargo Public School district have students who qualify for the free or reduced meal plan. This means that many families are struggling to make ends meet. In the past year, 15 of the 23 schools had an increased number of students become eligible for free and reduced meals. Currently over 3,000 students need financial assistance of some kind.
About Minot Park District:
The Oak Park Amphitheater was completed in September of 2015. On September 19th, they celebrated the completion of the Oak Park Amphitheater with their first Live at Oak Park with North Dakota's very own Tigerlily. They had over 700 members of the Minot Community join them for a great evening of entertainment. As they look forward to the summer of 2016, they are excited for more Live at Oak Park events. The amphitheater is a great addition not only to Oak Park but the entire Minot community. By hosting free events to the public, they hope to provide entertainment for people of all ages. It is a great cultural opportunity to bring in musical artists as well as visual artists from local to statewide. Minot has a broad base of artistic talent and they hope to showcase that with the Oak Park Amphitheater.
About 4 Luv of Dog Rescue:
4 Luv of Dog Rescue is an independent dog rescue in Fargo, ND devoted to rescuing and rehoming dogs. Their rescue does not believe in breed discrimination and welcomes all breeds of dogs. Additionally, they do not discriminate based on the age or medical condition of the dog. The dogs they have available for adoption are all wonderful, loving dogs who deserve a second chance at life and love. There are many expenses incurred in caring for these dogs (pound pull fees, boarding fees, vaccinations, spay/neuter, vetting, dog food, transportation, adoption/volunteer advertising). They rely on adoption fees, fundraisers, and donations to cover their expenses. It is not uncommon for a dog's adoption fee to be less than the expenses incurred while caring for the dog. They will use the grant to continue to have an impact on the lives of dogs.
---