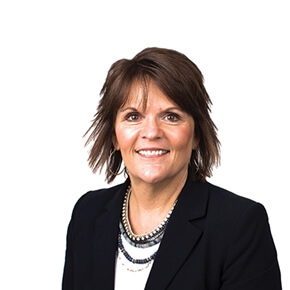 Renee Daffinrud
Exceptional is the standard when it comes to Private Banking with Renee Daffinrud. Boasting 35 years of banking experience, Renee has the expertise to help you meet your current financial needs, and set you on course to reach your long term investment goals. Backed by a team of experts at First International Bank & Trust, Renee is committed to fostering long term relationships with her clients to ensure that their financial plans evolve to mirror their lives.
Private Banking at First International Bank & Trust offers an elevated level of service for high net worth clients. With experience working in multiple realms of the financial industry, Renee has intimate knowledge of savings, loans, business banking and investments. She offers one-on-one, expert advice and planning custom tailored to an individual or family's needs.
Born and raised in Bismarck, Renee's commitment to the community aligns perfectly with goals at First International Bank & Trust. She believes in putting the community first, and knows that the financial health of every individual client can have an impact on the entire community. Renee devotes her time outside the bank to volunteering at the Bismarck Cancer Center, the American Heart Association, Sanford Health's Savor the Flavor, and to her husband, Mike, and children Dan and Kayla. As an early riser, Renee starts her day early each morning, offering true on-demand availability for her clients.